The Aurora virus is a world wide virus that breaks out in the world like some fairytale enchantment. It seals the women inside fibrous cocoons and leaves the men seriously disturbed. There are riots outside the White House; an apocalyptic gang war in the streets of Chicago. Meanwhile, in Dooling, West Virginia, the battle of the sexes boils down to a joust between Clinton Norcross, a harried prison psychiatrist, and Evie Black, a supernatural girl drifter, jailed for the violent and oversized murder of a pair of crystal meth cookers. The clock is ticking, things aren't looking good.
While the entertaining Sleeping Beauties – written by Stephen King togetherwith his  son, Owen – doesn't quite last for ever, but it does extend to 736 pages. It's a bulging storyline; filled  with supporting characters.
The women of the world are sleeping but they must not be disturbed. Tear off the cocoon (or even  prick it) and the females awaken as zombies and immediately start murdering their husbands and sons…whatever . Evie – whom the Kings refer to as "the black angel" – clearly regards this response as a kind of  payback.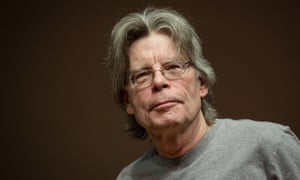 Clinton is struggling to save his marriage and watching as his sheriff wife, Lila, doses herself with caffeine and cocaine in a vain attempt to stay awake. Then, when Lila goes under, her post is filled by  Frank Geary, a former pest-control officer with a hair-trigger temper. Geary is determined to save his daughter and rightly believes Evie Black is the key. And yet Evie, for all her prominence, remains the vaguest, least fleshed-out member of Dooling's cast of hundreds. She is a plot device in the guise of an "enchanted being" written in to dispense the clues. Even the forest fox who trots his furry self through the storyline  has more emotional range. (Not sure of his role.
At times I found it to be a cumbersome read, I had to make notes of characters and even felt it could have been cut down. Was it padded out? I felt so.